Appleton Comedy Hypnotist
Appleton Comedy Hypnotist Steve Meade has been performing hypnosis shows for over 21 years. His Appleton Comedy Hypnotist show is called "The Virtual Reality Tour".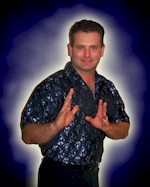 If you're looking for an Appleton Wisconsin Comedy Hypnotist, Steve Meade has a very funny and high energy show that is family friendly and the perfect for the following groups: Corporate Parties and Banquets, College Campus Activities, High School Fundraisers – Assemblies – Prom Parties – and Graduation Parties, Community Festivals – County Fairs and State Fairs, Comedy Clubs, Class Reunions, Casinos, Cruise Ships, Resorts, and even Birthday Parties.
During Appleton Comedy Hypnotist –Steve Meade's show – audience members end up becoming the stars of the show. After a quick show introduction, Steve will have people come right out of your audience excited to jump up on the stage and join him and other the other show volunteers for some hilarious fun.
Steve will hypnotize your audience member volunteers right before everyone's eyes which is truly amazing. Once hypnotized, they will be traveling with Appleton Stage Hypnotist Steve Meade to some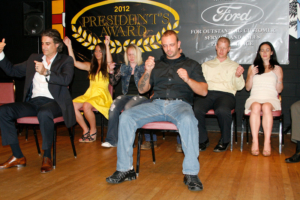 tropical location such as Jamaica or Hawaii on a supersonic jet for some fun in the sun. Sometimes the volunteers travel to an imaginary planet called Xenon – and hang out with crazy aliens.
By having a comedy hypnosis show for your event entertainment, you'll have one of the most hilarious and interactive shows ever. People love watching and participating in these shows and your audience and guests will talk about this show for years to come. Watch the video below of Appleton Comedy Hypnotist Steve Meade's show to get an idea of how much fun your group will have by booking him as your Corporate Entertainer…
Appleton Comedy Hypnotist Steve Meade – Hypnosis Show Video…
To book Appleton Comedy Hypnotist Steve fill out the form below or call him directly at 608-399-4683 today!….
Appleton Stage Hypnotist Steve Meade performs regularly in the following Wisconsin cities:  Appleton, Ashland, Beloit, Eau Claire, Fond du Lac, Green Bay, Janesville, Kenosha, La Crosse, Madison, Marinette, Menomonee Falls, Milwaukee, Oshkosh, Platteville, Prairie du Chien, Racine, Rhinelander, Sheboygan, Stevens Point,  Superior, Wausau, Waukesha, Wisconsin Dells, Wisconsin Rapids, and many other smaller Wisconsin towns.
Appleton Comedy Hypnotist Steve Meade also recommends hypnotists from this great booking agency… ProBookings – click that link to book other great Wisconsin comedy hypnotists.
Appleton Comedy Hypnotist Steve Meade also performs regularly in the following states: Alabama, Alaska, Arizona, Arkansas, California, Colorado, Connecticut, Delaware, Florida, Georgia, Hawaii, Idaho, Illinois, Indiana, Iowa, Kansas, Kentucky, Louisiana, Maine, Maryland, Massachusetts, Michigan, Minnesota, Mississippi, Missouri, Montana, Nebraska, Nevada, New Hampshire, New Jersey, New Mexico, New York, North Carolina, North Dakota, Ohio, Oklahoma, Oregon, Pennsylvania, Rhode Island, South Carolina, South Dakota, Tennessee, Texas, Utah, Vermont, Virginia, Washington, West Virginia, Wisconsin, Wyoming.
You can follow Appleton Comedy Hypnotist Steve Meade on Facebook HERE.
Save
Save
Save
Save
Save
Save
Save
Save
Save
Save
Save
Save
Save
Save
Save
Save
Save
Save
Save
Save
Save
Save