Comedy Hypnotist Steve Meade presents…
The Virtual Reality Tour Comedy Hypnosis Show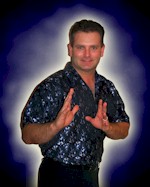 Hello, my name is Steve Meade and I'm one of America's top Comedy Hypnotist show performers.  I am the creator of The Virtual Reality Tour Comedy Hypnotist Show and I want to thank you for taking the time to review this information, and be the first to congratulate you in your wise decision to book my comedy hypnotist show for your next event!
I know it's a bit bold to assume that you will book me for your next event, but I am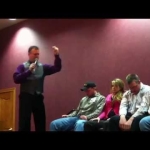 confident, that after you watch my comedy hypnotist show video, and review the testimonials from some of my clients, you'll make the obvious choice to have my comedy hypnosis show make your next event a smashing success!!
Since 1994, I have hypnotized over 25,000 people nationwide in my comedy hypnosis shows and motivational hypnosis training seminars, and my repeat customers always love every show. I regularly perform my hypnotist show for Corporate parties, college campus shows, high school proms, graduation parties and assemblies, fairs and festivals, and even comedy clubs and casinos.
Watch This Video of Comedy Hypnotist Steve Meade…

About My Comedy Hypnotist Show…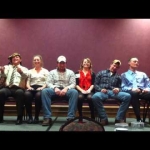 The Virtual Reality Tour Comedy Hypnosis Show is a comedy show where the volunteers and your audience are held spellbound as they are taken on a lifelike mental vacation using the power of hypnosis and their minds.  The powerful hypnotic commands from Steve will quickly have the comedy hypnotist show volunteers dropping like flies, and the jaws in your audience dropping in amazement…
Imagine this – 10 – 30 people flopped over in their volunteer chairs on the stage going from peaceful and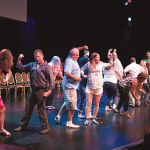 relaxed – to instantly energized as they take off on a super-sonic jet airliner for some fun at a tropical location.
The first stop on this mental vacation may be Jamaica or even Hawaii, where they'll  believe they're right on the beach soaking in those tropical rays, and before they know it they'll think they're at a beach party competing to be the world's greatest reggae dancers.  Maybe they'll visit "muscle beach" and have a pose off…
Next, they will be snorkeling out in the Caribbean or Pacific – swimming with the dolphins… and before you and they know it – they're racing on wave runners out in the ocean and trying to outrun the Coast Guard (wait until you hear their crazy excuses for why they were speeding)…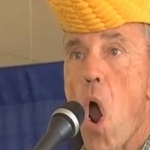 After this they may end up at the rodeo or county fair – entering the pig-calling competition, rustling "doggies" or riding the bulls, or even barrel racing their favorite "pretty pony".  Sometimes during the show they end up at the horse racing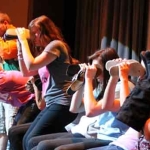 track – betting on their favorite horse – and cheering them on for the win.
Later they'll think they have turned into strange aliens or famous musical stars such as Lady Gaga, Toby Keith or even Justin Bieber – performing for their screaming fans and the paparazzi.
…Who knows where The Virtual Reality Tour Comedy Hypnosis Show will take you and your party guests – but you are guaranteed to laugh so hard that TEARS WILL RUN DOWN YOUR FACE!
The Types of Groups That Love My Show…
A Hilarious Corporate Party Comedy Hypnotist…
Have people in your company ever seen a corporate stage hypnotist performance?  Maybe you're planning a corporate event, such as a holiday party or summer picnic, or perhaps a sales seminar, or customer appreciation day, my stage hypnosis show will be your perfect choice.  I can even customize my corporate hypnotist performance to your corporate entertainment event's theme – or make it a motivational hypnosis training program too.  If your company does not have an entertainment budget, they most likely have a training budget.  My corporate comedy hypnotist show can be customized into a hypnosis training program, that teaches your employees how to achieve their goals with hypnotism.
An Amazing Comedy Hypnotist for College Campus Activities…
Perhaps you work for a college or university and are looking for a high energy, college hypnotist, to entertain your students, I've performed for dozens of colleges all over the U.S.  Your school would be a welcome addition to my list of colleges that bring me back year after year for my college hypnotist show! When compared to other college comedy hypnotist shows, my show is "not typical".  It is very HIGH ENERGY – it is filled with FRESH ROUTINES – it is quoted as "one of the funniest stage hypnotist performances ever seen".
A Mind-Blowing Entertainer At High School Prom and Graduation Parties and School Assemblies…
You might be looking for a prom hypnotist, graduation party stage hypnotist, school assembly stage hypnotist or even a motivational hypnosis training program for your high school – I've done hundreds of these types of stage hypnotism shows.  My prom and graduation party hypnotist shows have been immensely popular.  Most schools that book my hypnotist show bring me back year after year.  The students as well as their parents that attend the show absolutely love it!
A Top Comedy Club Hypnotist…
Do you own or book talent for a comedy club?  Steve has performed as a comedy hypnotist at some of the top comedy clubs in the Midwest including The Funny Bone, The Comedy Barn, Stephanie's and many more.  His comedy show is fast-paced, sharp and witty, and guaranteed to have your audience laugh so hard tears will run down their face.  His comedy club hypnosis show is also clean – which your audience will appreciate!  Any hypnotist can do a filthy show, but Steve's comedy hypnotism show will pull off the same great laughs without offending your customers!!!
A Family Friendly County Fair, State Fair and Community Festival Comedy Hypnotist…
If you're planning a festival or fair, and are looking for an entertainer that pulls in HUGE CROWDS – then book my comedy hypnotism show today!  This show is a great draw for public events and is completely family friendly and appropriate for all ages.  I promise you if you book my show for your fair or festival – you'll get overwhelmed with requests to have me back year after year!
Just a few of my thousands of Comedy Hypnotist Show clients…
Corporate:
Hy-Vee Food Stores – MCI – GTE – GMAC Mortgage – Normark Corporation – Country Mart Food Stores – Wal-Mart – 3M – Hawkeye Food Service – American Business Forms – Wendy's – Norwest Banks – American Family Insurance – New York Life – North Dakota Newspaper Assoc. – NE DECA –  NE FFA – NC Key Club…plus hundreds more!
Colleges:
Michigan State Univ. – Univ. of Michigan – Dartmouth – Univ. of Kentucky – Kansas State Univ. – Iowa State Univ. – Univ. of Wisconsin – Univ. of Nebraska – Missouri Univ. – West Virginia State College – Central Missouri State – Tennessee Wesleyan – Lamar College – Southern Arkansas Univ. – Buena Vista Univ. – St. Ambrose Univ. – Coker College – Bethany College – University of Iowa – Pueblo College – NICC, Peosta – Kirkwood Community College – Allegheny College of Maryland – Penn State, Scranton – Clarkson University – Buffalo State – Columbus State University – Albany State University – St. Thomas University, FL – Seton Hill College – Franklin College – University of South Dakota – Dakota State University – South Dakota State – Mitchell Technical Institute – Haskell Indian Nations University…plus dozens more!
Comedy Clubs and Casinos:
Stephanie's – Pepperonis – Barracudas – Jokers – One-Eyed Jakes – The Funny Bone – Ferg's – The Comedy Barn – Winnevegas – Isle of Capri – Ameristar Casino…plus many more!
High Schools:
Hundreds of High Schools throughout the Midwest for… Fundraisers – After Prom Parties – After Graduation Parties – All School Assemblies
Client Testimonials…
"Absolutely incredible, the show, the volunteers and Mr. Meade is an awesome comedy hypnotist, he had me crying I was laughing so hard!" (Caterpillar Inc., holiday party guest)
"This was the funniest thing I've ever seen and the best part was how interactive this type of hypnosis entertainment was – a BIG improvement compared to just hiring a DJ or band – it was a HIT with everyone!" (GTE Employee)
"This is the second time I have seen his comedy hypnotist show and they just get funnier and funnier!" (MCI Sales Convention Participant)
"…A blue ribbon performance…I can't wait until next year, I've seen over 10 of his comedy hypnotist shows and have loved every one… It was the funnest thing I have ever tried…" (National Cattle Congress Visitor)
To book Comedy Hypnotist Steve Meade or check his pricing and availability Call:
ProBookings Agency 608-399-4683 CST – day or night 🙂

OR… Fill out the Quote Request Form Below…
---
Comedy Hypnotist Steve Meade is based in Wisconsin USA.  Steve regularly performs in all 50 US States including:  Alabama, Alaska, Arizona, Arkansas, California, Colorado, Connecticut, Delaware, Florida, Georgia, Hawaii, Idaho, Illinois, Indiana, Iowa, Kansas, Kentucky, Louisiana, Maine, Maryland, Massachusetts, Michigan, Minnesota, Mississippi, Missouri, Montana, Nebraska, Nevada, New Hampshire, New Jersey, New Mexico, New York, North Carolina, North Dakota, Ohio, Oklahoma, Oregon, Pennsylvania, Rhode Island, South Carolina, South Dakota, Tennessee, Texas, Utah, Vermont, Virginia, Washington, West Virginia, Wisconsin and Wyoming.  Comedy Hypnotist Steve Meade is also available internationally in Canada, on Cruise Ships, and International Resort Destinations.
Save
Save
Save
Save
Save
Save
Save
Save
Save
Save
Save